Former Supreme Court Justice hears case between Jeshuat Israel and Shearith Israel by Aaron Ginsburg
Touro rimonim at the Boston Museum of Fine Arts
photo by Aaron Ginsburg
The case between Congregations Jeshuat Israel, of Newport, RI and Shearith Israel of New York City over the fate of the eight million dollar rimonim, created by colonial silversmith Myer Myers, and control of Touro Synagogue must be an important one. A former United States Supreme Court Justice sits on the three judge First District Federal Appeals Court panel hearing the case.
On Wednesday, March 8, several members of Jeshuat Israel went to Boston's Seaport District to listen to oral arguments at the John Joseph Moakley United States Courthouse. Shearith Israel has appealed Rhode Island United States District Court Judge John J. McConnell, Jr.'s decision to award control of the rimonin and Touro Synagogue to Jeshuat Israel.
The Jeshuat Israel members were led by co-presidents Dr. Naftali Sabo and Professor Louise Ellen Teitz, and by Rabbi Marc Mandel. Two Boston area members of the Touro Foundation, Shirley Saunders and Susan Goldberg, attended, as did Benyamin Yakovian, who visited Touro on Saturday.
Member Marc Ladin drove up from South County. (There is no county named South County in Rhode Island. It refers to parts of Rhode Island on the west side of Narragansett Bay, south of Greater Providence.) Other attendees included Bea Ross, Bailey Siletchnik, Stephen Groskin, Gary Klein, Patti Weiss, Rhonda Sabo, and me.
I took the train from Sharon, Ma, to South Station. The walk along the waterfront included a great view of the Seaport District across the Fort Point Channel. After crossing Seaport Boulevard's Evelyn Moakley Bridge, I arrived at the courthouse.
I was in such a rush that I didn't have a picture ID. Fortunately, I had a picture of my passport on one of my devices and after showing it and checking the devices, I was allowed through security.
Once inside, we made our way to the courtroom in time to hear the first case. Our case was fourth on the docket.
Each side in a case is allotted a set number of minutes, the appellant going first. The appellant has the option of saving a few minutes for rebuttal. The three judges had read and discussed the briefs, and agreed on the questions they wanted answered.
Soon after a lawyer began an oral argument, he or she would be interrupted by a question from Justice Sandra Lynch. Occasionally former United States Supreme Court Justice

David Souter

or visiting Judge Bobby R. Baldock asked for a clarification. Nowadays, Supreme Court Justices don't usually retire, but soldier on until the very end. David Souter retired in 2009 after 19 years on the Supreme Court and returned to his New Hampshire home.
The attorneys have to be prepared to discuss every possible aspect of the case, not an easy task. If they waffled, they were admonished to get moving, or were told, "We've already discussed this," or asked, "Do you really want to go there?" One young attorney smirked when she was listening to her opponent. Justice Lynch read her the riot act about proper behavior in court. I'm glad I was sitting in the back!
In our case each side had 20 minutes. Attorney Louis Solomon spoke for Shearith Israel. He argued that Shearith Israel's obligation regarding Touro Synagogue was to the Jewish Community of Newport as a whole, rather than specifically to Congregation Jeshuat Israel.
When Jeshuat Israel's attorney, Gary Naftalis, spoke, the judges asked,"Didn't the 1903 lease between Shearith Israel and Jeshuat Israel [for Jeshuat Israel's rental of Touro Synagogue] supersede the previous history?" Hadn't both parties agreed that Shearith Israel owned the Touro Synagogue building and everything that went with it?
Naftalis's response was twofold. He said, "You can't lend something that you don't own." This may have applied to both the building and the rimonim. He also made the point that the lease was for the building...and the rimonim were not part of the building. Some discussion then ensued whether the rimonim were included in the lease.
Judge Lynch concluded by congratulating both lawyers on the high quality of their arguments, undoubtedly with the briefs in mind.
A lot of legal manpower is going into establishing whether Congregation Jeshuat Israel is congruent with the Jewish Community of Newport. Our minds were overflowing with the matter, and we needed to cool off.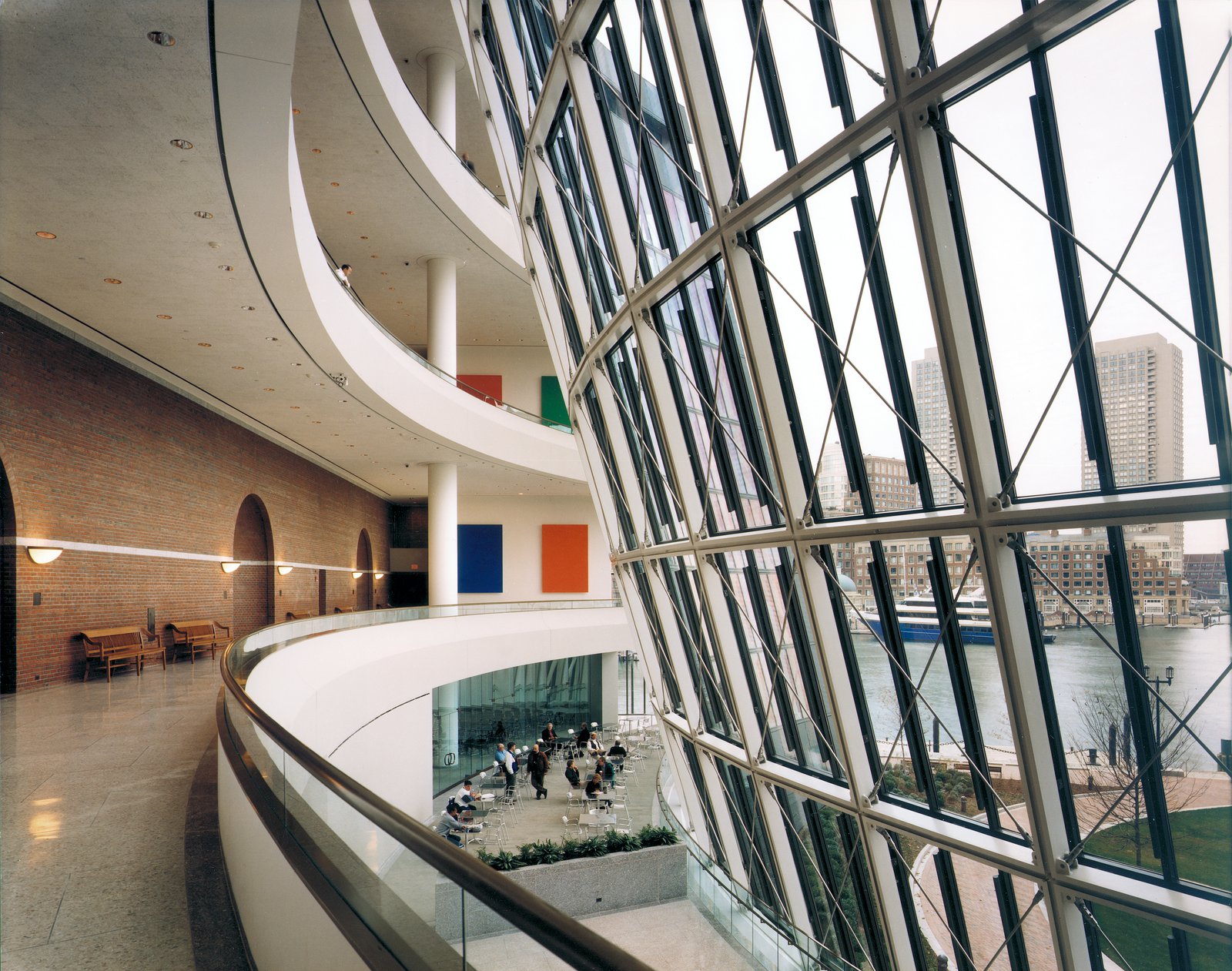 The view from the Moakley Courthouse. source: courthouse
architects Pei Cobb Fried& Partners
Several of us decamped to the cafeteria for a light lunch. The cafeteria is one of the great bargains in downtown Boston. Not only is the cost of the food extremely reasonable, but the room's massive windows provide a great view of downtown Boston.
We then returned to our homes to anxiously await the court's decision, which may not be released for several months. Meanwhile Shabbat, Purim and Passover will provide some welcome respite.